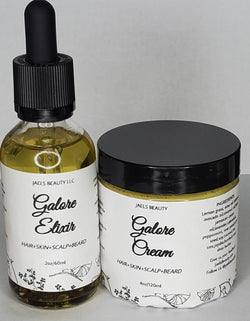 Jaels Beauty
Moisture Galore 4oz And Galore Elixer 2oz | Jaels Beauty
This product will moisturize, de-frizz and add manageability to your natural hair leaving it soft and shiny. Made with 100% pure shea butter and formulated without chemicals or harsh ingredients.

For natural hair
Restores your real, authentic beauty
Controls frizz with a lightweight, non-flaking formula
No mineral oil, sulfates, parabens, silicones, phthalates, gluten, paraffin, propylene glycol, PABA or DEA
This finished product is not tested on animals
Growth Galore Oil will nourish your hair from roots to ends. This blend of oil helps to regrowth thinning hair, stop breakage, hydrate dry scalp, treat and prevent split ends and add shine and luster for a longer, thicker and healthier hair; Or just to maintain healthy growing hair.

Directions: Use 2-3 times a week
Once a week for sew ins!
Part hair and apply directly to the scalp!
Can be used as a leave in or hot oil treatment!

Contains all natural ingredients: lemon grass, and essential oil blends.